TL Series Horizontal Centrifugal Pumps
Structure type: Single-stage Single-suction Open-type Straight Blade Horizontal Centrifugal Pumps
Manufacturing Standard: API 610
Model Description:
TL: Low Flow High-head Special Pumps

Flow: Design point flow (m³/h)

Head : Design point head (m)
Applications: Petroleum, petrochemical, refining, pharmaceutical, metallurgy, paper-making, electric power, foods, light industry, etc.
Pumped medium: Various liquid media, such as acids, alkalies, salts, alcohols, benzenes, alkanes, medicines, waters, etc.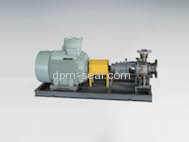 TL series centrifugal pumps brand Tiande.
Introduction:

TL series standard small flow high head centrifugal pump is single stage, single suction, post-tensioning horizontal centrifugal pump. It mainly consists of pump body, impeller, pump cover, seal system, bearing support, baseplate, coupling and its guard, motor. The bearing support is connected to the motor with extended flexible coupling, and both of them are mounted on the same baseplate. The pump sucks axially and discharges radially. The rotation direction of pump, is counter clockwise viewed from pump suction.
The pump has simple structure. It can be quickly maintained without disconnect the suction pipe and motor. The pump uses deep groove ball bearing support, and thin oil lubrication. There is an oil window on the bearing support for oil level visual check.
The pump shaft seal flush plan and support system are design by following API682, and the mechanical seal is designed to fit the required industrial application with different material and seal type, as well as the support system. The mechanical seal types which can be applied on this pump are single seal, dual seal and tandem seal. The applicable support systems are heat exchanger, dry gas seal system, labyrinth seal, cyclone separator which can help sealing ability when the media is easy vaporize, toxic, with particle content, flammable and combustible.
The flow-passing parts consist of an impeller, a pump body and a sealed chamber. The impeller uses open-type straight blade type, with high head coefficient and stable low flow characteristic curve. The antifriction bearing uses oil bath lubrication type. The insulating jacket arranged at the pump head can convey the high temperature media.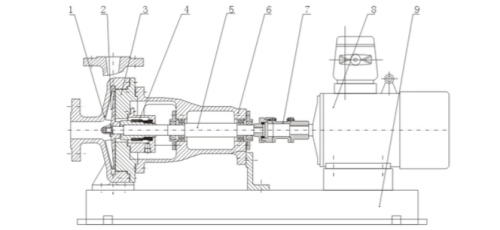 1 Pump body. 2 Impeller. 3 Pump cover. 4 Mechanical seal. 5 Pump shaft. 6 Bearing support. 7 Coupling. 8 Motor. 9 Baseplate.
Performance curve: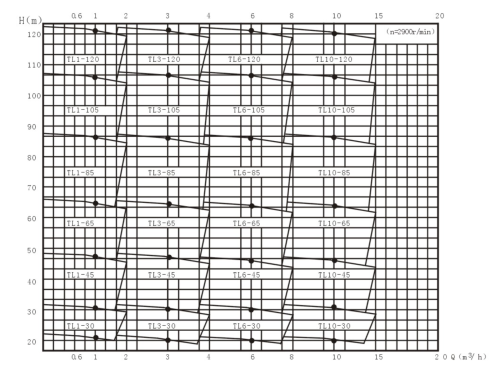 Installation brief dimension drawing