Canned motor pumps
Canned motor pump is a kind of hermetic pump which has no mechanical seals. In view of the difficulties and especially the costs associated with the maintenance of mechanical seals, plant designers and operators have increasingly recognised the advantages of the canned motor pump.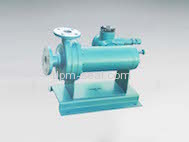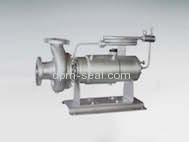 Canned motor pump, Brand: Shinhoo
It has the advantage of:
1. No Leakage
Suitable for handling flammable, explosive, toxic, corrosive and expensive fluids hermetically.
2. Airtight
Suitable for handling vacuum tight system, fluids that react when contact with air.
3. No Shaft Seal
Suitable for handling high pressure system, high or lower temperature fluids, high melting point fluids.
4. No External Lubrication
Self-lubrication design, no lubrication required for motor bearings and no lubrication levels to check or maintain.
5. Compact Design
Small, compact and self contained, installation costs are reduced with minimal foundation requirements.
6. Low Noise & Vibration
Totally enclosed with neither motor fans nor exposed bearings.