High speed centrifugal pump API610

GSB series of high speed pumps are a novel kind of chemical process pump. It is able to replace reciprocating pumps and multistage centrifugal pumps with better performance in the field of low flow and high head, which can be widely used in petroleum, chemical, electric power, metallurgy, pharmacy, food, environmental protection and other fields. Compared with the same performance of other centrifugal pumps, GSB series of high speed pumps are a type of energy-saving and long-term stability performance product. Components of pumps are less contact with the fluid, so it greatly reduces produce of the corrosion and mechanical failure. Impeller adopts the flow design of open part of the axial flow, so that the axial force value is almost zero. The clearance of the open impeller and the pump case is large enough to transport all kinds of high viscosity liquid, without affecting the pump performance.
GSB series of high speed pump is a kind of pump which can overtake multiple heavy load application conditions. It is able to handle medium temperature, high pressure, and heavy duty applications greatly in the industry of oil and gas, chemical, paper, fertilizers and others. Its reliable performance, small installation area occupation, low cost maintenance and efficient repairing makes it a wise choice for high pressure low flow application condition.
Our GSB-L1/L2/L3 and all the components are interchangeable with Sundyne LMV-322/311/341 and the performance has been verified through long time application in our domestic chemical plants.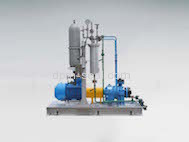 GSB-F high speed pump, Brand: Tiande
Model Description:
GSB - F - Flow / Head
1 2 3 4

Number signification
GSB: High speed pumps

F: Splash lubrication

Flow: Designed flow (m3/h)

Head: Designed head (m)
Standard Scope of Supply (Pump can be customized to suitable customer design parameter)
Pump with integrally gear box

Main motor

Coupling with guard

Single filter(double filter optional)

Lube oil pressure gauge

Lube oil temperature gauge

Lube oil pressure transmitter

Water cooler(Forced air cooler, driver optional)

Mechanical seal & system

All necessary auxiliary pipelines

Common skids
Optional Features
API614 lube oil console

Vibration monitoring system

Parallel arrangement

Custom skid packaging

Customized instrument and system is avaliable

Sound noice enclosure
GSB-F cross section brief introduction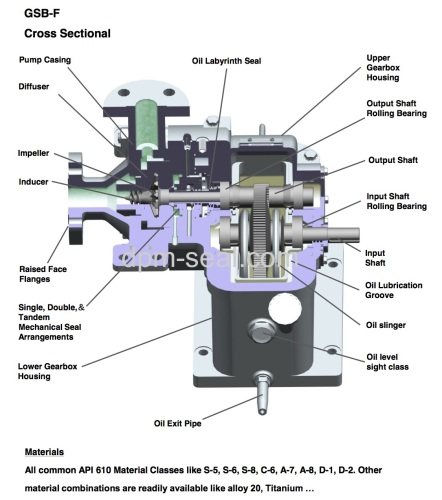 Pump performance data and curve