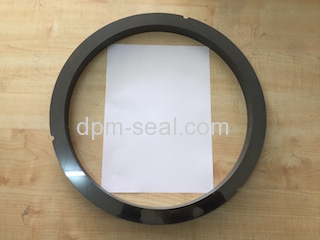 Large SSiC mechanical seal rings innovation
The advantages of mechanical seals are obvious, and now mechanical seals is more and more widely used. In order to adapt more use of the situations, some larger mechanical seals appear and put into use. Especially in the application of agitator seal and dry gas seal.
So, under the customer's request, we DPM was going to directly face the challenge and produce SSiC large rings with 400mm diameter. During the experiment, we found that there are many problems to produce these large rings by our existing equipment and technology. In order to make such a large product, we need larger mold, larger press machine, larger grinding machine, larger lapping machine, and larger measuring tools. And when the size goes larger, all the machines are difficult to use in order to keep the same accuracy as the small rings. We are lucky that our current sintering furnace can still handle the blank of 400mm rings, otherwise we couldn't develop this product successfully.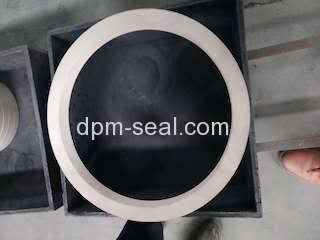 After a lot of fails and tests, we solved all problems ultimately and increase out success rate on making such rings with many great ideas from our workers and engineers. We have produced a number of qualified 400mm large SSiC rings successfully rely on the existing equipment, material density of 3.09-3.10g/cm
3
, size tolerance of ± 0.05mm, surface flatness 0.0009.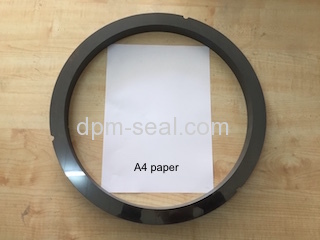 At present, there are basically no seal ring manufacturers in China that can produce such large SSiC rings. Since we have mastered the technology of producing it only with our existing equipment, our manufacturing cost is not very high and we can still guarantee 40-45 days delivery time on 400mm SSiC rings.
As for 350mm SSiC rings we made which are going to be applied on dry gas seals, we are able to do density of 3.10-3.15g/cm3, size tolerance of 0.03mm and surface flatness 0.0006. And for sizes smaller than 350mm, 30 days will be enough for us to make delivery.
SiC products are not only required and widely used in the field of mechanical seals but also in other fields. The application area for this great material is still exploring. We DPM have achieved a success on making 400mm large SSiC mechanical seal rings, we will be very interested in exploring new products in new application area together with our customers.